Everlong FS-1091 и FS-1092
---
Good packaging for your products!
semi-automatic tray sealer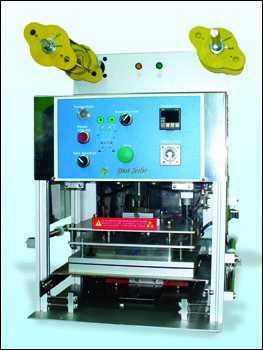 We provide a plant for air-tight sealing of plastic containers and trays.
FS-1091 and 1092 (Taiwan). Based on our experience, as well as on the reputation of the manufacturer, we responsibly declare that this device is the most optimal solution for packaging a wide range of products in its market segment.
Benefits of using FS-1091 and 1092:
Simplicity and convenience
Designed for packaging all types of products
Capacity of 6 to 12 cycles per minute
Air-tight sealing of container with film and trimming along the perimeter of the container
Automatic/semi-automatic operation
Automatic film stretching mechanism
Sealing temperature and time regulator
Photosensor for working with color film
Safety and durability
Low power consumption
Easy care and maintenance
Dies for trays 136 × 136, 142 × 92, 187 × 137, 205 × 160, 210 × 148, 227 × 178, 260 × 177
Die changeability for any size
| | | | | | | |
| --- | --- | --- | --- | --- | --- | --- |
| Model | Size | Voltage and power | Weight | Capacity | The size of the tray | Compressor |
| FS-1092 | 350 × 540 × 640 mm | 220 В, 300 vt | 60 kg | up to 700 PCs / hour | any | Additional option |